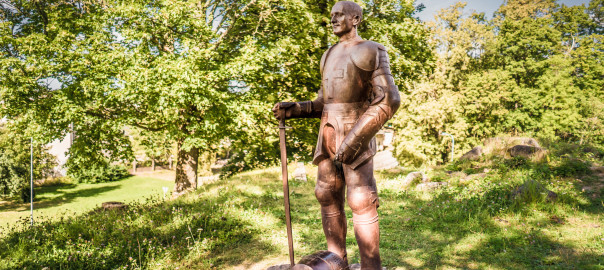 In August 2016, in the framework of the 13th International Cast Iron Symposium, the artist Kārlis Alainis created a large-scale knight sculpture. After the symposium the sculpture were processed and on April 1, 2017, the sculpture was placed at the Livonian Order Castle ruins as a sightseeing place for Aizputes citizens and guests of the city. The knight's sculpture was created in cooperation with the artists workshop and residences center SERDE.
Address: Liepājas iela 9, Aizpute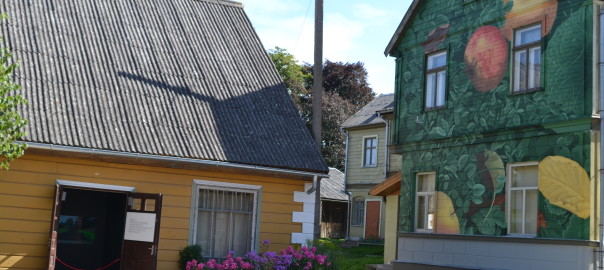 Canadian film maker Reiner Derdo, using the Canadian artist Sylvia Borda sketches, near the SERDES residences center did a wall painting on a house that is located at Atmodas iela 11. Sylvia Borda has visited Aizpute several times because of the framework of the project "Frontiers in Retreat". Artist got inspired by Aizputes old apple tree gardens. Sylvia Borda have done sketches for Kalvenes and Atmodas streets which in the future could be painted with apples and apple flower motives too.
Address: Atmodas iela 11, Aizpute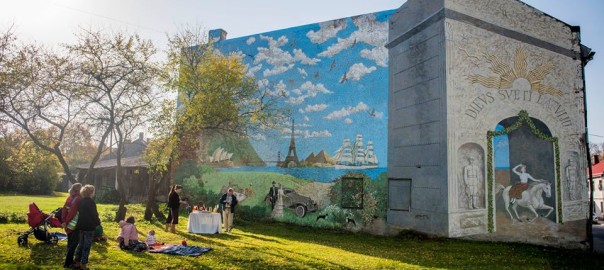 In 2016 in cooperation with the artist Gerda Stūre,  work has begun on creating a large-format wall design on the east wall of the old  Linmeiers building. The main composition is formed by transforming the main wall of the house into a triumphal arch, inspired by Latvia in the 20th century in  20th-30th years architecture […]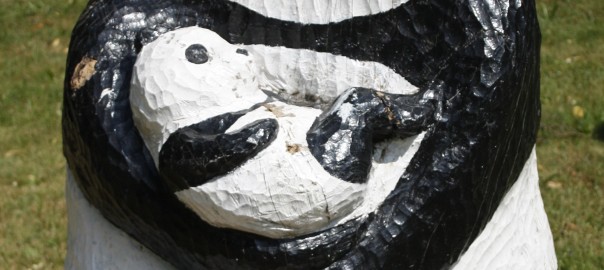 The carved sculpture "Pandas" was made in Aizpute, at the artist workshop and residences center SERDE. Sculptures author is young artist Jasush Kome from Japan. The place, where the sculpture is now, has been chosen by the artist himself. The sculpture is a tribute to all mothers with babies.
Address: Square between Liepājas iela and Katoļu iela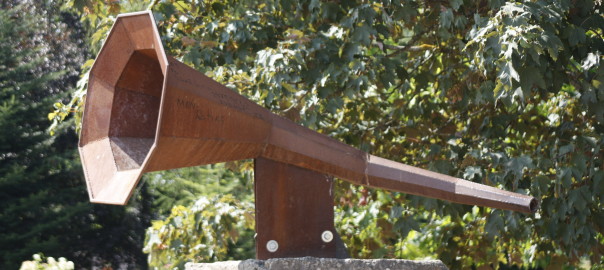 Cast iron sculpture "Speak Aizpute" was created in 2009 by Estonian artist Ullo Karro in cooperation with the artist's workshop and residences center SERDE. The sculpture is located on the Aizpute Market Square.