On the opposite side of Aizpute castle ruins, on the right side of the river Tebra is the 16 meters high Kurshi castle mount (now church hill). In the year 1254, in the place where German crusaders robbed and ruined the ancient Kurshi castle, a castle was built. The Saint John evangelic Lutheran church has been renovated and rebuilt and today it is one of the oldest churches in Courland [...]
Address: Liepājas iela 3, Aizpute
GPS: 56.721001, 21.599402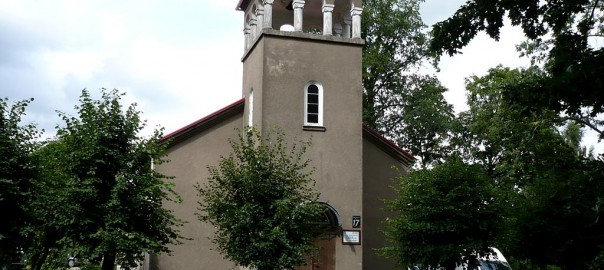 Aizpute Baptist Parish was founded in 1869, its first priest, later also Latvian Baptist Parish bishop – Ādams Gertners was later kept in a prison in Aizpute and also in Kuldīga. The first church building was built in 1884, but after 8 years in 1892, with the pretense, that the Baptist church is too close to the Orthodox Church building, the tsar administration demand to take down the church building [...]
Address: Kuldīgas ielā 17, Aizpute
Phone: (+371) 26336783
GPS: 56.723991, 21.606811
The first Catholic church in Aizpute was built in 1254. In the 1580s because of historical events, it was made into a Lutheran church. In 1732 a dean named J. Genner from Jelgava bought a house in Aizpute, in which he made a chapel for Catholics. After about a hundred years, this building was about to collapse, that's why a dean named Jāzeps Sandovičs from Ventspils signed an agreement with innkeeper Antonevich, who [...]
Address: Kuldīgas iela 2, Aizpute
Phone: (+371) 26578580, (+371) 63449990
GPS: 56.721818, 21.604683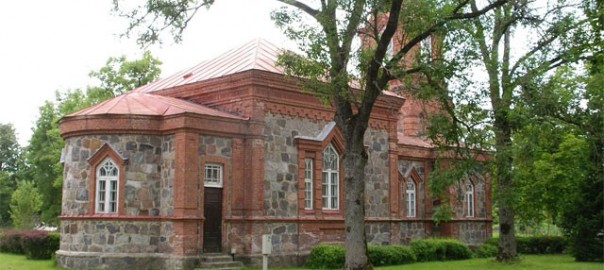 The Adventist church acquired its meeting house in 1993. Before that, the church building hosted Aizpute Orthodox church parish.
Address: Kalvenes iela 38a, Aizpute
Phone: (+371) 29720361
GPS: 56.715821, 21.614044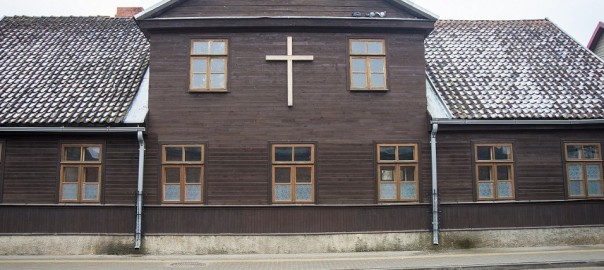 Aizpute Pentacostal Church is registrated in 1989. Until then, in the Soviet times, the parish operated in the parishes founder's and first priests self-built house. In the same year the parish bought a house on Kalvenes street 12, which was rebuilt into a church and already in 9th December of 1990 the church unveiling service took place. In 2000 the parish bought a building in Kalvenes iela 10 in which a bigger hall was constructed for the parishes services.
Address: Kalvenes iela 12, Aizpute
GPS: 56.717469, 21.608916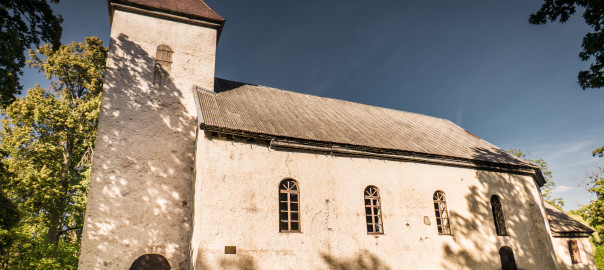 Cīrava Lutheran Church was built in baron H.F. Von Bera time from 1780 till 1781un Sudmalkalns (a hill). From the outside, it was similar to other churches of Kurzeme with its pyramid-shaped tower, red tile roof, and massive brick walls. The altar and pulpit is a rococo-style piece of art (the author is unknown) [...]
Address: Cīrava
Phone: (+371) 26401508 (Līga Grīnvalde)
GPS: 56.736527, 21.383641
Apriķi church is considered to be the pearl of Courland sacral art because the glory of its indoor interior is remembered by its every visitor. The stone church is built on Apriķi manor house land as Osten-Sakenu private church at the beginning of the 17th century. The church got its glorious blue-white and golden-colored interior in the middle of the 18th century [...]
Address: Apriķi
Phone: (+371) 26658606 – Inese Vīdnere
GPS: 56.804317, 21.495257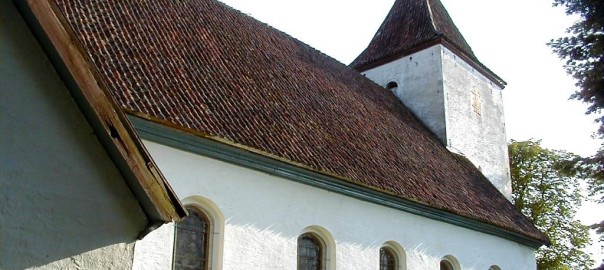 Valtaiķi church is 5 kilometers away from the Kazdanga manor and even if nowadays territorially it is in Kuldīga County, it is very connected with Kazdanga. As soon as on 1792 a stone church was built, from the outside, it was very simple and similar to other churches in Courland [...]
Address: Valtaiķi, Laidu pagasts, Kuldīgas novads
Phone: (+371) 29896339
GPS: 56.697463, 21.800102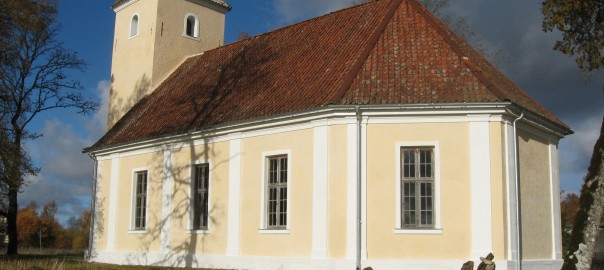 Klostere St. Peter church once belonged to the church of Aizpute. In 1591 in church archives is written that Aizpute parish has a small church near Piltene, but belongs to Aizpute. The small wooden church has been located on a hillside near Jāmaiķi manor and where the roads were crossing [...]
Address: Jāmaiķi, Turlavas pag., Kuldīgas nov.,
Phone: (+371) 26462824
GPS: 56.844826, 21.647556