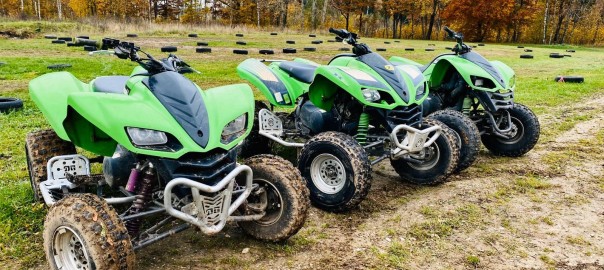 Recreation complex "Lauku Kūrorts" on weekends (by appointment also on weekdays) offers buggy and quadricycle rental for adults and children for trips on a specially designed track. Visit www.laukukurorts.lv for available times, their reservations and pricing.
Address: "Ūdensrozes", Kazdangas pagasts
Phone: (+371) 26446670
Facebook: https://www.facebook.com/laukukurorts
GPS: 56.717733, 21.770106
Boat rental is offered for active recreation in Aizpute along the river Tebra and Dzirnavu pond. The offer includes a paddle boat and 2 canoes.
Book your visit in advance!
Address: Liepājas iela 8, Aizpute
Phone: (+371) 28835364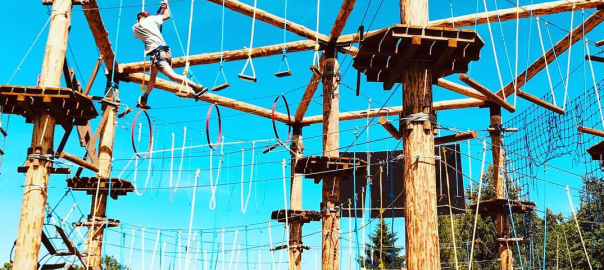 Rope park offers activities for lovers of active recreation, where you can try out your strenght on different heights and complexities, overcoming vertical and horizontal obstacles in the tower of a unique construction.
Address: Ūdensrozes, Kazdangas pagasts, Aizputes novads
Phone number: (+371) 26446670
Web: www.laukukurorts.lv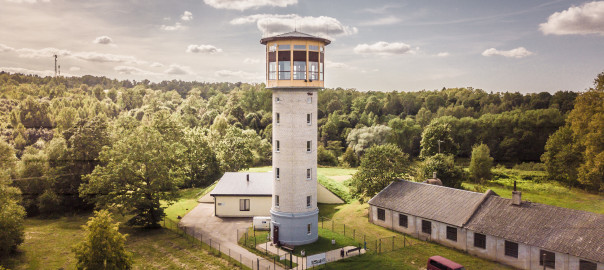 The water tower was built in 1960 and was used until 2009. In 2009., the city's water management structure changed and the tower was completely excluded from the common water supply system. The tower's highest point is 27m from the ground. Right now the industrial heritage object -Aizpute`s water tower is opened as view tower. Address: Atmodas iela 32 C, Aizpute, (+371) 28617307; Entrance cost: 1 EUR
OPENING HOURS
Tuesday – Friday 10:00 – 18:00, Saturday 10:00 – 15:00, Monday, Sunday – CLOSED!
BOOK YOUR VISIT IN ADVANCE!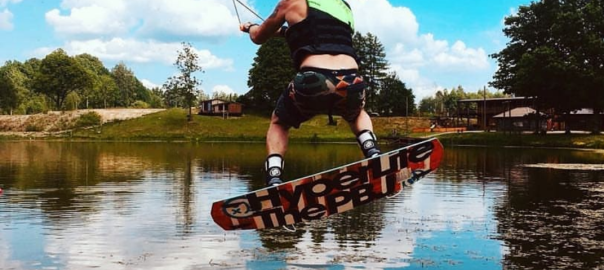 Leisure complex "Lauku Kūrorta Ciems" offers WakeBoard park "Fun Wave". Cable wakeboardis a surface water sport which involves riding a wakeboard over the surface of water in which the skier`s rope and handle are pulled by an electrically-driven cable. Wakeboarding is suitable for women and man in any age.
Address: Ūdensrozes, Kazdangas pagasts, Aizputes novads
Phone number: (+371) 28332737, (+371) 26706009
Web: https://www.facebook.com/laukukurorts/
For active recreation, nature watchers and walking enthusiasts Kazdanga manor park has been built 190 metres long pedestrian pontoon bridge, as well as a new view tower across Dzirnezers. Tower is 2,7 metres high above the water level for watching diversity of a nature and bird watching. Also are made two tracks, which leads to the dock. A pontoon dock connects both Dzirnezers shores, creating 7 km long natural path where to go for walks, exercising and watching. Access to the trail is adapted for people in wheelchairs.
Address: Kazdanga manor park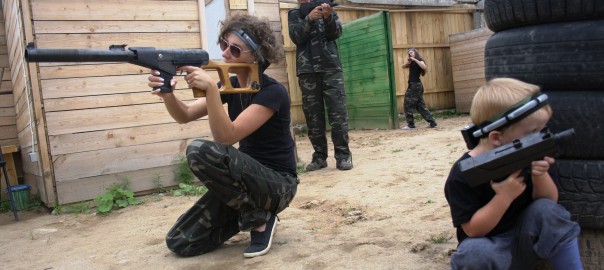 The Laser Tag game is analog to paintball. It is technological game, the aim of which to neutralize the adversary with infrared beams, which are completely harmless. Laser Tag is suitable for professional sportists, for children's teams and for active relaxation with friends and family. Dressing rooms, toilets and showers are included in the "Plan B". There is also available three with electricity, water and grill-equipped gazebies (about 25 people in each) where guests can spend time before and after the game.
Adrese: "Ūdensrozes", Kazdangas pagasts, Dienvidkurzemes novads
Telefons: (+371) 26446670
Internetā: www.laukukurorts.lv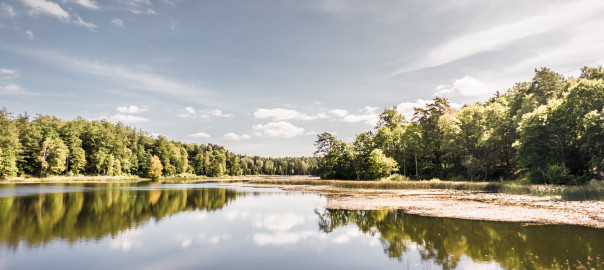 Nowadays in the 196 hectars sized Kazdanga manor park made in the 19th century, there are interesting walking paths, bycicle paths, wooden sculptures, a system of paths and bridges. Kazdanga manor park is one of the biggest and dendrologicaly richest Latvian manor house parks. Kazdangas Tourism Center offers tours of the park guide, and creative […]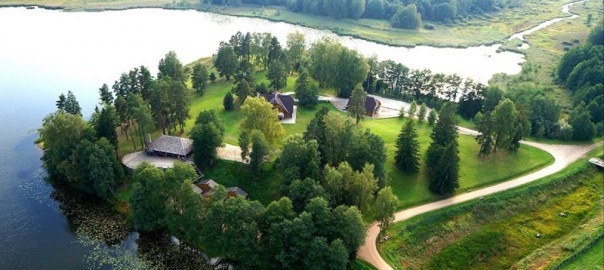 In the bank of lake Sepene, is a campsite with 12 little, two bedded houses, a fire place, and lean-to. Also for renting there is a guest house with a hearth and a beautiful terrace with a view to the lake. "Kurzemes pērle" also offers different kinds of activities for the guests – water bicycles, fishing, quad bikes, volleyball courts, sauna, etc. For more detailed information and prices, visit our webpage. Open during summer season!
Address: "Būdnieki", Kalvenes pagasts, Aizputes novads
Phone: (+371) 28658466
Webpage: www.kurzemesperle.lv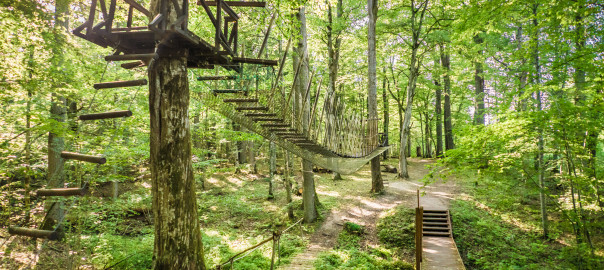 For those who enjoy and beautiful scenery, a walking path with places to sit and small bridges have been created. The greatest part of this path goes along the river Durbe, revealing many bends and the mischief of beavers, as well as hornbeam, birch, aspen and pine groves. Admirers of active relaxation will like the big cable bridge, the climbing wall, swings and different Beaver path activities.
Phone: (+371) 26121069, (+371) 25435898
E – mail: cirava.tic@inbox.lv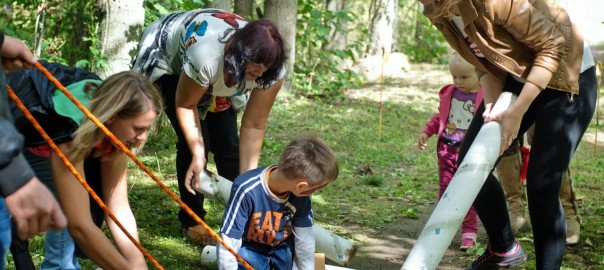 !! HIKES ARE NOT AVAILABLE UNTIL 9th OF JUNE DUE TO THE COVID-19 SITUATION IN THE COUNTRY Attractive, commands unifying, spirit race supportive hiking struggling with 3 – 5 hiking leaders. Physical activities are suited according to age group. The hike takes palce 1 – 3 hours. Offer for both – adults and children (from 10 – 30 person per group). At the end of hike we are offering cosy resting in park around fire place with tea (EUR 1,50 per person) or soup (EUR 2,50 per person; during school time).
Phone: (+371) 26121069, (+371) 25435898
E – mail: cirava.tic@inbox.lv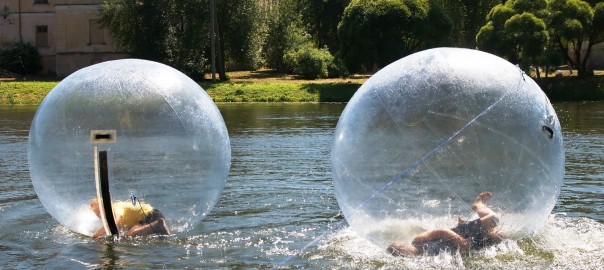 The association "Pimarmētra" offers to enjoy the water activieties in Cīravas mill pond, water reservoir of your choice. Offer: 5 waterballs, 3 water crickets or aquaskipers. Also offers canoe boats from a few hours of water tourism in Durbes river to a multi-day adventure on the water. Offers: 8 canoes with oars and life – jackets, boat trailer.
Phone: (+371) 27878004, (+371) 25435898
E – mail: janis@udensputni.lv, cirava.tic@inbox.lv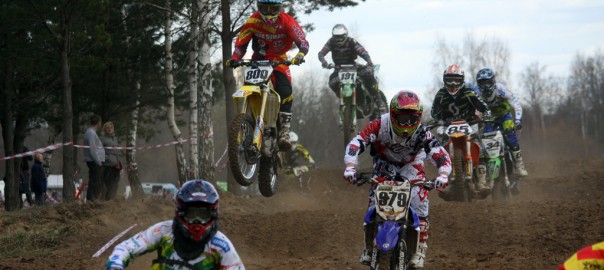 The motorcycle race tracks hold regular international or Latvian competitions in various classes of motocross. Amateurs and proffesionals can use special practise time slots.
Address: Brīvības iela 54, Aizpute
Phone: (+371) 29397995
The site provides a natural swimming area for leisurely recreation, camping and bonfires; it has changing rooms, WC, parking lot and fire place.
Address: Laža water reservoir, Jelgavas iela, Aizpute